The New (Improved) PO Box
Mailbox Forwarding offers a new way to handle your paper mail that's much more convenient than a traditional PO Box. With our remote mailbox service, you can keep in contact with your mail wherever you are. We provide you with a mailing address which is accessible online. You can view all the mail you receive online: letters, documents, and packages, whether delivered by the USPS, FedEx, or UPS.
Access your paper mail as easily as your email
We provide you with a unique street address box number where you can have all your mail sent. When a new piece of mail arrives, our staff automatically scan the front of the envelope. You can then manage your mail through an online control panel, and can request that we open and scan the contents, shred and recycle the item, or forward-ship it to your home or business address.

Compare us to a traditional PO box
| | | |
| --- | --- | --- |
| | Mailbox Forwarding | Traditional PO Box |
| Convenience | Check the contents of your box securely from your computer and view a scanned image of each envelope | Travel to the post office whenever you need to check your box |
| Notification | Receive an instant email notification whenever a new piece of mail arrives | No notification; you must manually check your PO box |
| Carriers Supported | Since your mailbox address is a real physical street address, you can receive letters and packages from any carrier, including the USPS, FedEx, and UPS | You can only receive mail from the USPS |
| Professional Image | If you're using the mailbox for a business, a real street address mailbox number always looks more professional than a PO box | Using a PO box can signify that your business isn't a serious, long-term endeavor |
| Mobility | View your mail while traveling from any place where you have an internet connection | You must physically check the box |
| Archiving | For important mail pieces, you can save a scanned image of the contents on your computer or leave it in the digital archive of your account on our secure servers | Either keep a complicated system of paper files or take the time to scan the mail yourself |
| Extra Features | We provide a toll-free shared fax line to all of our customers and free document shredding | None |
| Payment Flexibility | You may pay month-to-month with no setup fees or term commitments; plans start at only $14.95/mo | Pay 6-12 months upfront |
View and manage mail from anywhere
Your online control panel makes it easy to manage the mail that comes to your virtual address. At the click of a button you can have your mail or packages forwarded globally, scanned so you can read the contents through your secure online account, or shredded and recycled.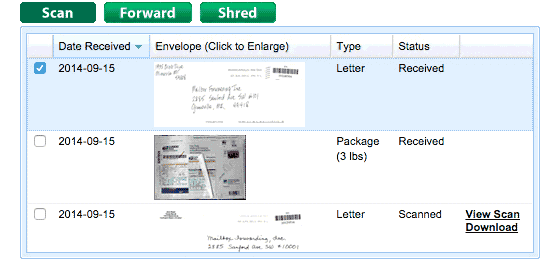 Affordable mailing address and mail forwarding
With pricing starting at only $14.95/mo and no setup fees or commitments, our service is a fraction of the cost of a traditional mailbox service, virtual office address, or PO box that doesn't even provide online access. And our mail forwarding rates are some of the lowest in the mailbox rental industry.
Stay secure and protect your privacy
We enforce high security standards to ensure that your mail remains private and confidential. You can actively choose when you want a piece of mail scanned and when you want it forwarded to you unopened. Our staff are monitored during all mail handling activities, and your mail will never leave secure storage for longer than is necessary to scan it.

Mailbox Features


First Month Free
Enter the promo code "freemonth" during signup